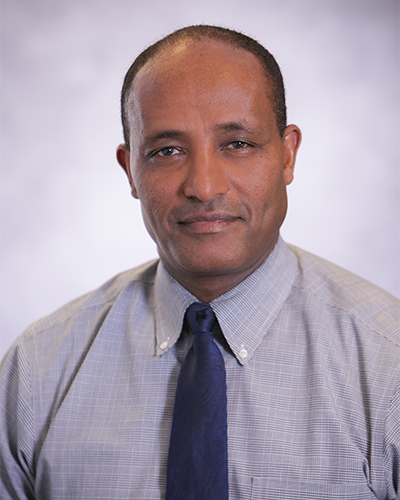 Gemechu Gerbi, Ph.D., MSc
Associate Professor
Community Health & Preventive Medicine

Core Lead for both Biostatistics and Epidemiology and Director of Public Health Research in the Master of Public Health Program
Location: NCPC, Room 222
Phone: 404-756-8975
E-mail: ggerbi@msm.edu
Education
POSTGRADUATE:
Epidemic Intelligence Service (EIS) Officer in the Epidemiology and Surveillance Branch, Division of Viral Hepatitis, National Center for HIV/AIDS, Viral Hepatitis, STD and TB Prevention at the Centers for Disease Control and Prevention in Atlanta, Georgia

GRADUATE:
Tuskegee University
Degree: Doctor of Philosophy in Integrative Biosciences/Epidemiology

Tuskegee University
Degree: Master of Science in Veterinary Science/ Epidemiology

UNDERGRADUATE:
Addis Ababa University, Addis Ababa, Ethiopia
Degree: Bachelor of Arts in Sociology and Social Administration
Research Interests
Epidemiologic and social determinants of HIV/AIDS, viral hepatitis, cancer, cardiovascular diseases, and diabetes.
Publications
Alexander T, Miles-Richardson S, Gerbi GB (2020). The Effects of Tuberculosis and Syphilis Co-Infection on HIV Viral Load and CD4 Cell Count among People Living With HIV/AIDS in Tanzania. J Infect Non-Infect Dis 5: 029.
McKinney LP, Gerbi GB, Caplan LS, Claridy MD, Rivers BM (2020). Predictors of genetic beliefs toward cancer risk perceptions among adults in the United States: Implications for prevention or early detection. J Genet Couns

.

2020; 00:1–11
Gemechu B. Gerbi and Stephanie Miles-Richardson (2019). Predictors of not always Using Seatbelts among Adults in the United States: Findings from the 2016 Behavioral Risk Factor Surveillance System. ARC Journal of Public Health and Community Medicine. 2019; 4(1): 29-36.
Gemechu B. Gerbi, Roxanne Williams, Barnabas Bakamutumaho, Stephen Liu, Robert Downing, Jan Drobeniuc, Saleem Kamili, Fujie Xu, Scott D Holmberg, Eyasu H Teshale (2015). Hepatitis E as a Cause of Acute Jaundice Syndrome in Northern Uganda, 2010-2012." Am. J. Trop. Med. Hyg., 92(2), pp. 411–414.
Gemechu B. Gerbi, Loralee B. Rupp, Stephen C. Ko, Anne Moorman, Scott D. Holmberg, and Fujie Xu (2014). Reported reasons for testing among hepatitis B virus infected patients, — Chronic Hepatitis Cohort Study (CHeCS), United States, 2006–2010. Liver Int 13;34(6):e162-3.
Honors and Awards
Outstanding Mentor (2020 MSM Faculty Gala)
Distinguished Teaching (2020 MSM Faculty Gala)
Outstanding Mentor of the Year (2019 MSM Faculty Gala)
Best Embodies MSM Mission (2018 MSM Faculty Gala)
Best Research Professor (2017 MSM Faculty Gala)
The Reach Award (2015 MSM Faculty Gala)
Member, Editorial Advisory Committee for The Nation's Health-the official newspaper of the American Public Health Association (2015-2017).
Member, Georgia Prevention and Care Council (2015 - Present).