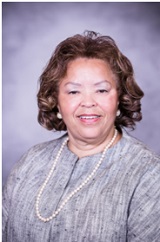 Reinetta Waldrop, DrPH, MSHS, FACHE
Associate Professor
Community Health & Preventive Medicine

Curriculum and Policy Chair, Doctor of Health Administration
Location: National Center for Primary Care 344-A
Phone: 404-752-1904
E-mail: rwaldrop@msm.edu
Education
GRADUATE:
University of Georgia
Degree: Doctor of Public Health

Georgia Institute of Technology
Degree: Master of Health Systems Engineering

UNDERGRADUATE:
Howard University, Washington, DC
Degree: Bachelor of Science
Research Interests
The Affordable Care Act
Health equity for vulnerable populations
Board Certification
American College of Healthcare Executives
Publications
Mubasher, M., Ametewee, L, Waldrop, R.T., Akintobi T.H. (2020). Investigation of Racial and Ethnic Disparity Impact on COVID-19 Infection and Case-fatality Rates Among Georgian (GA, USA) patients. Journal of Healthcare, Science and the Humanities. (full abstract invited 6-9-20)
Waldrop, R.T., P. Saraiya, L. Tables, C. Ford, Hutchins, S. (2020) Reductions in All-Causes Mortality Among African Americans 19-64 Years of Age in Medicaid Expansion and Non-Expansion States Post ACA: Opportunities to Improve US Amenable Mortality. Journal of Ethnicity and Disease, November Vol 30,4. (Manuscript in peer review 5-27-20)
Jordan, C.M., Miles-Richardson, S., Waldrop, R.T., Gerbi, G.B. (2020) Determinants of Health Information Seeking ARC Journal of Public Health and Community Medicine. 2020, 5(1):8-14. DOI:http://dx.doi.org/10.20431/2456-0596.0501003.
Sims A, Archie-Booker E, Waldrop R. T, Claridy MD, Gerbi G. (2018). Factors Associated with Human Papillomavirus Vaccination among Women in the United States. ARC Journal of Public Health and Community Medicine.2018; 3(1):6-12. DOI: dx.doi.org/ 10.20431/ 2456-0596.0301002
Danielle Broadnax, Reinetta Thompson Waldrop, Mechelle D. Claridy, Elaine Archie Booker, and Ernest Alema-Mensah (2016). Association between intimate partner violence and mentally unhealthy days in women in the U.S. Journal of the Georgia Public Health Association, Supplement to Vol 6 No. 2, pp. 263.
Honors and Awards
2020 MPH Outstanding Mentor Award, MPH Class of 2020
2019 MPH Graduation Marshall Honor, MPH Class of 2019
2019 MPH Distinguished Teaching Award, MPH SGA 2019
2019 MPH Outstanding Faculty Teaching Award, MPH Class of 2019
2018 MPH Graduation Marshall Honor, MPH Class of 2018
2018 MPH Outstanding Faculty Advisor, MPH Class of 2018
2018 MPH Outstanding Faculty Mentor, MPH Class of 2018
2018 Faculty Member of the Year Award, MSM, MPH SGA
2017 MPH Graduation Marshall Honor, MPH Class of 2017
2017 Faculty Teaching Award, MPH Class of 2017
2017 Best Academic Professor, MSM MPH SGA
2016 MPH Graduation Marshall Honor, MPH Class of 2016
2016 Outstanding Faculty Award, MSM, MPH SGA
2016 Faculty Teaching Award, MPH Class of 2016
2015 MPH Graduation Marshall Honor, MPH Class of 2015
2015 Echelon Award for Outstanding Faculty, MSM, MPH SGA
2015 Faculty Teaching Award, MPH Class of 2015
2014 MPH Graduation Marshall Honor, MPH Class of 2014
2014 Faculty Leadership Award, MPH Class of 2014
2014 Faculty Teaching Award, MPH Class of 2014
2014 Most Influential Faculty Award, MSM, MPH SGA
2013 MPH Graduation Marshall Honor, MPH Class of 2013
2013 Outstanding Faculty Award, MSM, MPH SGA
2008 Excellence in Teaching Award, MSM MPH Graduating Class of 2008
2007 Outstanding Faculty Member, HAP Track, MSM, MPH Graduating Class of 2007
2005 Outstanding Faculty Member, HAP Track, MSM, MPH Graduating Class of 2005
1997 Administrator of the Year Award, Georgia Association for Primary Health Care
1995 APEX Award for Achievement, Professionalism and EXpertise in Healthcare Women Healthcare Executives of Georgia, Inc.
1993 Salute to Women of Achievement Awards, Grady Health System Honoree, YWCA of Greater Atlanta