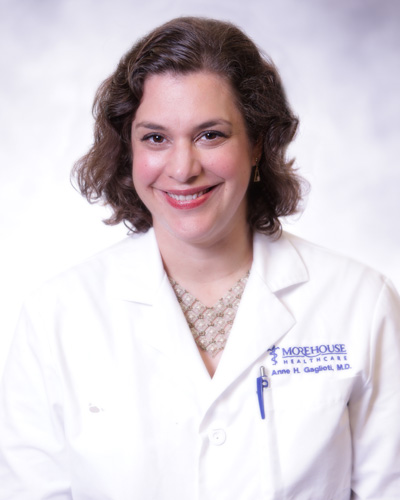 Anne Gaglioti, M.D., MS, FAAFP
Associate Professor
Family Medicine

Associate Director of Research, Director Southeast Regional Clinicians Network
National Center for Primary Care
Location: National Center for Primary Care, 311
Phone: 404-756-5262
E-mail: agaglioti@msm.edu
Education
POSTGRADUATE:
Case University Medical Center, Cleveland, OH
Residency: Family Medicine

The Robert Graham Center for Policy Studies and Georgetown University School of Medicine, Washington, DC
Fellowship: Primary Care Research and Policy

Morehouse School of Medicine
Degree: Master of Science in Clinical Research


MEDICAL SCHOOL:
Case Western Reserve University School of Medicine, Cleveland, OH
Degree: Doctor of Medicine


UNDERGRADUATE:
The College of William and Mary, Williamsburg, VA
Degree: Bachelor of Arts



Research Interests
Primary Care Health Services Research
Care of Underserved, Disparate, and Marginalized Populations
Practice-Based Research Networks
Board Certification
American Board of Family Medicine, 2007
Publications
County-Level Proportion of Non-Hispanic Black Population is Associated with Increased County Confirmed COVID-19 Case Rates After Accounting for Poverty, Insurance Status, and Population Density. Gaglioti AH, Douglas M, Li C, Blount M, Baltrus P, Mack D. White Paper Published by the National Center for Primary Care at Morehouse School of Medicine. May 4, 2020.
Primary Care Comprehensiveness and Care Coordination in Robust Specialist Networks Results in Lower Emergency Department Utilization: A Network Analysis of Medicaid Physician Networks. She Z, Gaglioti AH, Baltrus P, Li C, Moore MA, Immergluck L, Rao A, Ayer T. Journal of Primary Care and Community Health. June 8, 2020.
Differences in travel time to surgery for colon versus rectal cancer in a rural state: A new method for analyzing time-to-place data using survival analysis. Matthews K, Kahl A, Gaglioti AH, Charlton M. Journal of Rural Health. June 5, 2020.
Racial and ethnic disparities in treatment and treatment type for depression in a national sample of Medicaid recipients. McGregor B, Li C, Baltrus P, Douglas M, Hopkins J, Wrenn G, Holden K, Respress E, Gaglioti AH. Psychiatric services. 2020 Apr 2:appi-ps.
County-Level Concentration of Selected Chronic Conditions Among Medicare Fee-for-Service Beneficiaries and Its Association with Medicare Spending in the United States, 2017. Matthews KA, Gaglioti AH, Holt JB, McGuire LC, Greenlund KJ. Population Health Management. 2020 Apr 1.
Honors and Awards
Chairman's Award, Morehouse School of Medicine Family Medicine Residency Program, Recognition by Graduating Residents as an Outstanding Residency Faculty Member 6/2019
Outstanding Fellow Award, Morehouse School of Medicine Master of Science in Clinical Research Program 5/2019
North American Primary Care Research Group International Committee Reciprocal Prize for outstanding research presentation at the 2018 North American Primary Care Research Group Annual Meeting 12/2018
Iowa 6th Judicial District, Luella Lusmeister Volunteer of the Year Award in Recognition for Medical Services Provided to men transitioning from a correctional setting to the community 11/2013
Featured in the University of Iowa Carver College of Medicine, Faculty Focus 09/2013
40 Under 40 Award Recipient, Corridor Business Journal, Iowa City, Iowa 02/2012
Departmental nomination for the 2011 Doris Duke Charitable Foundation Clinical Scientist Development Award, University of Iowa Department of Family Medicine 2010
Teaching Excellence Award, Georgetown University/Providence Hospital Family Medicine Residency 6/2008
Chief Resident Award, Department of Family Medicine Residency, Case University Medical Center, Cleveland, OH 06/2007
Tomorrow's Leader Award, American Academy of Family Practice National Conference, Kansas City, Kansas 8/2006