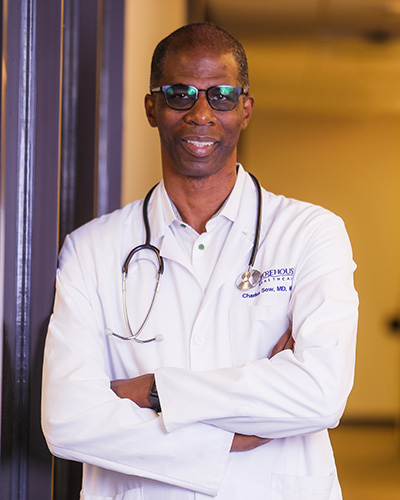 Charles Sow, M.D., M.S.C.R., CPEHR
Associate Professor
Family Medicine

Director
Clinical Informatics & Integrative Medicine
Location: Buggy Works, Bldg. 100A, 3rd Floor, Room 339
Phone: 404-756-1215
E-mail: csow@msm.edu
Education
POSTGRADUATE:
Morehouse School of Medicine
Residency: Family Practice

Hospital Cantonal de Geneve
Fellowship: Hopital Cantonal de Geneve

Dakar University Hospital
Residency: Orthopedic


MEDICAL SCHOOL:
Université Cheick Anta Diop, Faculte de Medecine et de Pharmacie
Degree: Doctor of Medicine

Morehouse School of Medicine
Degree: Masters of Science in Clinical Research'
Board Certification
Diplomate American Board of Family Practice

ACLS (Advance Cardiac Life Support)

Educational Commission for Foreign Medical Graduates
Publications
Mack D, Rust GS, Baltrus P, Moore B, Sow C, Patel V, et al. Using appendiceal perforation rates to measure impact of a disaster on healthcare system effectiveness. South Med J. 2013;106(1):82-8.

Babalola D, Meng Y. X, Nichols M, Omole F, Sow C, Perkins V. Improving the Patient Flow at an Academic Primary Care Teaching Clinic Serving African American Patients Clinical and Experimental Medical Sciences, Vol. 1, 2013, no. 5, 241 – 250; HIKARI Ltd, www.m-hikari.com

Omole FS, Lin JS, Chu T, Sow CM, Flood A, Powell MD. Raynaud's phenomenon, Cytokines and Acupuncture: a case report. Acupuncture in medicine: Journal of the British Medical Acupuncture Society. Apr 19 2012.

Omole F, Sow CM, Babalola D, Fresh E, Strothers H. Interacting with Patients' Family Members during Office Visit. American Family Physician October 1, 2011 Volume 84, Number 7. Pg 780-784.

Ndiaye A, Sy M H, Dansokho A V, Sow C.M, Massalia G, Bassene N. Evaluation of surgical treatment for patellar fractures. Dakar Med 41 (2): 113-123 (1996).

Ndiaye A,CamaraS, NdoyeA, Dansokho A.V, Sow C.M, Ndiaye P.D, Bassene N. Mortality caused by traffic road accidents at the Trauma and Orthopedics Center of Grand Yoff. A two years study. A report of 156 cases. Med Trop 53 (4): 487-491 (1993).


Click here to view additional publications.
Honors and Awards
2004: Morehouse School of Medicine Resident of the Year Award

2004: Morehouse School of Medicine Director's Award

2004: Morehouse School of Medicine Family Practice Chief Resident Award

1995: National Merit Order of Senegal

1993: Jacques Wagner SICOT Prize, Seoul/Korea