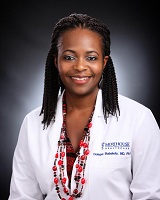 Dolapo Babalola, M.D., FAAFP
Associate Professor
Family Medicine

Director
Medical Education & Rural Health
Location: Buggy Works, Bldg. 100A, Room 328
Phone: (404) 756-1211
E-mail: dbabalola@msm.edu
Education
POSTGRADUATE:
Morehouse School of Medicine
Residency: Family Medicine

Morehouse School of Medicine
Fellowship: Primary Care Faculty Development

White Memorial Medical Center Family Residency Program
Fellowship: Developing Leaders in Cultural Competency

Society Teachers of Family Medicine
Fellowship: Medical Student Educators Development Institute (MSEDI)


MEDICAL SCHOOL:
University of Guyana School of Medicine, Guyana.
Degree: Bachelor of Medicine & Bachelor of Surgery
Research Interests
Prevention and control of diabetes and hypertension using group sessions and nutritional education.

Developing an optimal learning environment while training learners on the screening of preventable diseases along with providing care for acute and chronic medical illnesses.
Board Certification
December 2007: American Board of Family Medicine


Publications
Holden KB, Hall SP, Robinson M, Triplett S, Babalola D, Plummer V, Treadwell H, Bradford LD. Psychosocial and sociocultural correlates of depressive symptoms among diverse African American women. J Natl Med Assoc. 2012 Nov-Dec;104(11-12):493-504. PMID: 23560351

Omole FS, Sow CM, Fresh E, Babalola D, Strothers H 3rd. Interacting with patients' family members during the office visit. Am Fam Physician. 2011 Oct 1;84(7):780-4. PMID: 22010616

Babalola D. Learning about prevention the hard way. A patient's perspective. Am Fam Physician. 2010 Jun 1;81(11):1320. PMID: 20521749

Babalola DA, Omole F. Periodontal disease and pregnancy outcomes. J Pregnancy. 2010;2010:293439. doi: 10.1155/2010/293439. Epub 2010 Aug 12. PMID: 21490739

Babalola D. Regarding prognostic factors in typhoid ileal perforation: a prospective study of 53 cases. J Natl Med Assoc. 2007 Dec;99(12):1425. PMID: 18229782

Babalola D. Lifestyle modifications, tubal flushing to increase fertility. Am Fam Physician. 2007 Oct 15;76(8):1111. PMID: 17990833

Click here to view additional publications.


Honors and Awards
2013: Grady Community Teacher's Award: Commitment to Teaching and the Future of Primary Care

2009: Go! Diabetes and GAFP Research Poster Award Winner

2009: Georgia Academy of Family Physicians Annual

2008: Faculty Development Program Completion Certificate Morehouse School of Medicine, GA

2007: First place for Family Medicine Research Presentation AAFP, Scientific Assembly 2007

2006: Resident's Forum Award for Outstanding Case Presentation, National Medical Association Conference