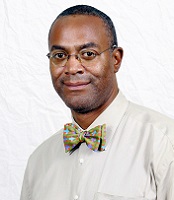 Gregory Strayhorn, M.D., Ph.D.
Professor and Director, Research Division, Graduate Faculty
Family Medicine

Location: Buggy Works, Bldg. 100A, 3rd Floor, Room 345
Phone: 404-756-1230
E-mail: gstrayhorn@msm.edu
Education
POSTGRADUATE:
University of Iowa Hospitals and Clinics
Residency: Family Practice

University of North Carolina School of Medicine
Scholars Program: Robert Wood Johnson Clinical Scholar


MEDICAL SCHOOL:
University of North Carolina at Chapel Hill School of Medicine
Degree: Doctor of Medicine


GRADUATE:
University of North Carolina
Degree: Master of Public Health in Epidemiology

University of North Carolina
Degree: Doctor of Philosophy in Epidemiology


UNDERGRADUATE:
University of North Carolina at Chapel Hill
Degree: Bachelor of Arts in Chemistry
Research Interests
Process of care and management of chronic diseases

Social determinants of health and metabolic responses
Board Certification
Georgia Medical License

North Carolina Medical License

Fellow American Academy of Family Medicine

Certified in Family Medicine

Advanced Cardiac Life Support

Diplomat, National Board of Medical Examiners
American Board of Family Medicine
Publications
Ede V., Yancy E., Stringer H., Josiah-Willock R., Strayhorn G. Clinician Utilization of Best Practices for HIV care and Status Disclosure: A Cross-sectional Study. Open Journal of Preventive Medicine. Vol.4 No.8 2014 [ID: 1340343].

Baraka Floyd, M.D., M.Sc.,1 Prakash Chandra, M.D.,2 Stephanie Hall, M.P.H., Christopher Phillips, M.D., M.P.H.,1 Ernest Alema-Mensah, Ph.D.,1Gregory Strayhorn, M.D., Ph.D.,Elizabeth O. Ofili, M.D., M.P.H.,and Guillermo E. Umpierrez, M.D. Comparative Analysis of the Efficacy of Continuous Glucose Monitoring and Self-Monitoring of Blood Glucose in Type 1 Diabetes Mellitus. Journal of Diabetes Science and Technology. 6(5): 1094-1102 Sept. 2012.

Thomas, S., Meng, Y., Patel, PG, Strayhorn, G. A Rare Form of Melanoma Masquerading as a Diabetic Foot Ulcer: A Case Report. Case Reports in Endocrinology Volume 2012, Article ID 502806, 4 pages doi:10.1155/2012/502806.

Quarshie A, Davis A, Strayhorn G, Weaver C, Delano C, Winters K, Rice R, Ofili E. Establising the Morehouse School of Medicine (MSM) R-CENTER clinical and translational research web-portal: the role of focus groups. J Health Care Poor Underserved. 2011;22(4 Suppl):165-73.

Pan Q, Meng Y-X, Gibbons G., Strayhorn G.: Effectiveness of a comprehensive intervention in improving documentation in the electronic health record required for the diagnosis of the metabolic syndrome. Quality in Primary Care, 17:191-6,2009.

Adamkiewicz T., Farley M., Howgate J., Baughman W., Strayhorn G., Silk B.J. Effectiveness of the Seven-Valent Pneumococcal Conjugate Vaccine in Children with Sickle Cell Disease in the First Decade of Life. Pediatrics. 121(3): 262-9, 2008 Mar.


Click here to view additional publications.
Honors and Awards
2014: The William H. Cleveland Faculty of the Year Award, Morehouse School of Medicine Family Medicine Residents

2013, 2012: Faculty Teaching Award, Morehouse School of Medicine Master of Science in Clinical Research

2012: Yolanda E. Hacker, MD Residents' Advocacy Award

2012: Educator of the Year, Georgia Academy of Family Medicine

2011: Distinguished Alumni Award, University of Iowa Carver College of Medicine

2010: Chairman's Award, Morehouse School of Medicine Family Medicine Residents, 2010