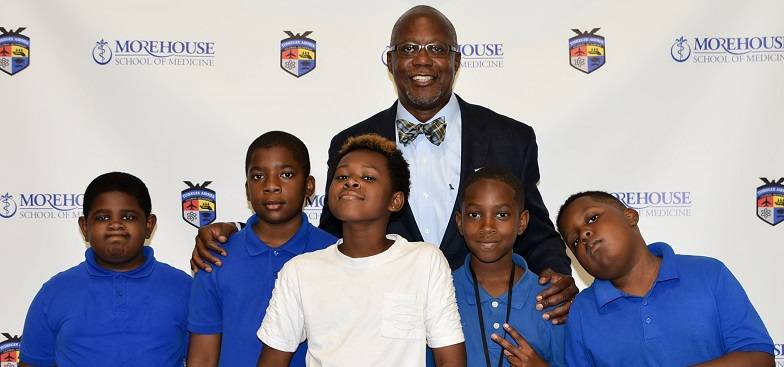 MSM-Tuskegee Airmen Global Academy Connect
Mission and Purpose
The MSM-Tuskegee Airmen Global Academy Connect Mentoring Program is a partnership with the Morehouse School of Medicine (MSM), Tuskegee Airmen Global Academy, Atlanta Public Schools, and Atlanta CARES. The employees of Morehouse School of Medicine will provide one-on-one and group mentoring to the 3rd–5th grade students at Tuskegee Airmen Global Academy. Research indicates that mentoring improves attendance, academic achievement, classroom behaviors, life skills and self-efficacy. MSM is committed to providing support in character development, attitudes towards learning and social-emotional learning.
How To Mentor at Tuskegee Airmen Global Academy
We are happy to kick off our 2022-2023 MSM Mentoring program! This year, we have two mentoring locations to choose from:
Tuskegee Airmen Global Academy (TAG)- At TAG we will mentor 3rd, 4th and 5th You can choose to meet with your mentee any day Monday through Friday during the following time slots:
8:00-8:45am- 3rd grade
8:50-9:35am- 4th grade
10:05-10:50am- 5th grade
Harper Archer Elementary School- Since this is our first year at Harper Archer Elementary, we will start our program with ten 4th grade students. Some of you may be concerned with the distance, but Harper Archer is only 7 miles from MSM. The mentoring time frame will take place any day Monday through Friday during the time slot of: 9:30-10:15am.
How to participate:
Email jthrash@msm.edu to state that you want to mentor.
Include your preferred site, TAG or Harper Archer Elementary
Also include your grade level/time slot
Eligibility:
Everyone must complete a background check along with fingerprinting. This cost is sponsored by MSM.
Commitment:
You must commit to meet with your mentee at least once per month. Twice per month would be great!
Our president, Dr. Valerie Montgomery- Rice allows us an hour from work to go over and mentor our next generation. They really enjoy our faculty and staff coming to meet and spend time with them.
Our mentoring program will start Monday, October 17th at both locations. Please respond by Wednesday, August 24th to confirm. I look forward to hearing from you soon.
---