Morehouse School of Medicine Plans $50 Million Expansion
Plans to Break Ground on 7.2-Acre Mixed-Use AUC Development Ready in 2020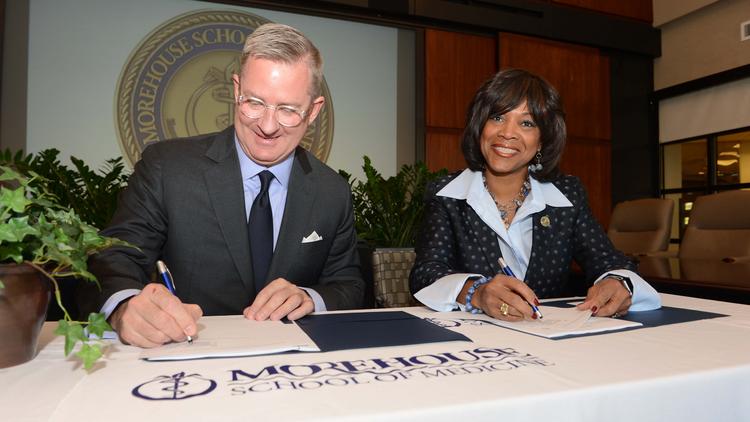 Carter President and CEO Scott Taylor and Morehouse School of Medicine (MSM) President and Dean
Dr. Valerie Montgomery Rice sign $50 million MSM expansion deal. Photo taken by Byron E. Small
On November 17, 2017, Morehouse School of Medicine (MSM) announced a partnership with local real estate development firms Carter and Oakwood Development to construct and manage a new gateway to the Atlanta University Center in Atlanta's Historic West End. Together, they will design concepts and manage the planned 7.2 acre mixed use real estate development, including housing, health and wellness, and retail for students, faculty and staff. The health & wellness center will provide services for the Atlanta University Center Consortium schools. Construction is scheduled to be completed in summer 2020.
The project is a three-phase development. Plans for Phase 1 include approximately 200 units of market rate multi-family housing, a 25,000 square foot medical office building, a 9,000 square foot wellness center, 2,500 square feet of retail space and a 4-level parking deck on the corner of Lee Street and Westview Drive, just west of MSM.
Development planning will continue in 2018 with construction scheduled to begin in 2019.
Click here to read the full article about MSM's expansion on SaportaReport.
About Morehouse School of Medicine (MSM)
Founded in 1975, Morehouse School of Medicine (MSM) is among the nation's leading educators of primary care physicians, biomedical scientists and public health professionals. In 2011, MSM was recognized by Annals of Internal Medicine as the nation's No. 1 medical school in fulfilling a social mission. MSM faculty and alumni are noted for excellence in teaching, research and public policy, as well as exceptional patient care.
Morehouse School of Medicine is accredited by the Commission on Colleges of the Southern Association of Colleges and Schools to award doctoral and master's degrees. To learn more about programs and donate today, please visit www.msm.edu or call 404-752-1500.
About Carter
Carter is one of the country's leading real estate investment, development and advisory firms with mixed-use, multi-family, office, student housing and education/institutional projects under construction around the country. Founded in 1958, Carter is headquartered in Atlanta, GA and has a proven history of creating value for its partners, investors and clients. Today, the company is focused on developing urban mixed-use projects in select markets. Carter also invests in value-add real estate investment opportunities, having invested over $1.2 billion in assets in the past decade. The company's program management practice provides representation to education, institutional and government clients, while its advisory practice advises clients and partners as they make strategic real estate decisions. For additional information on Carter, please visit: www.carterusa.com.
About Oakwood Development
Oakwood Development was founded in 2014 as a real estate development firm with a mission to revitalize urban communities in an inclusive manner. Led by Kelly King, President, Oakwood is 100 percent certified as a women/minority owned firm with the Georgia Department of Transportation. Kelly has more than a decade of asset management experience with blue chip firms such as Loews Corp, Yale University Properties, Starwood Hotels and State Street Bank's private equity firm The Tuckerman Group (now a division of Hunt Companies). For additional information, please visit: www.oakwooddevelopment.com.