The Columbus Alumni Learning Community (ALC) was the first Morehouse School of Medicine ALC to become active in early 2014. Since launching in 2014, The Columbus ALC has established relationships with local high schools and colleges. To date Columbus ALC alumni have reached nearly 200 high school college students through events and social media. In December 2014, their first clinical experience orientation and shadowing experience was hosted and since help provide a hands on experience students in the Columbus area. <<More>>
ALC Columbus Newsletters
ALC Columbus Testimonials

Student Shadowing Testimonials
"It was a perfect opportunity to see not only a doctor that was an inspiration but, also a very professional establishment that caters to the well-being of patients." - Janet

"She explained everything she was doing to me and I got to witness the entire surgery. I can only hope everyone is as awesome as Dr. Stuart." - Janell

"Nothing needs to improve, I had a great time shadowing." - Chance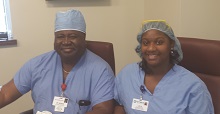 Physician Mentor Testimonials

The student that shadowed me was great. She was very inquisitive. She should do well as a medical student and become an excellent physician. Thanks for getting me involved."
- Dr. Wilkes
"The Student was pleasant, polite and well groomed." - Dr. Edwards


Join Us
We invite Morehouse School of Medicine alumni to contribute further service to their communities through their Alma mater. We also welcome schools and students that would like to participate to do so.
Click below to join or to inquire about Alumni Learning Community