Camille Davis-Williams, M.D.
Greater Atlanta Women's Healthcare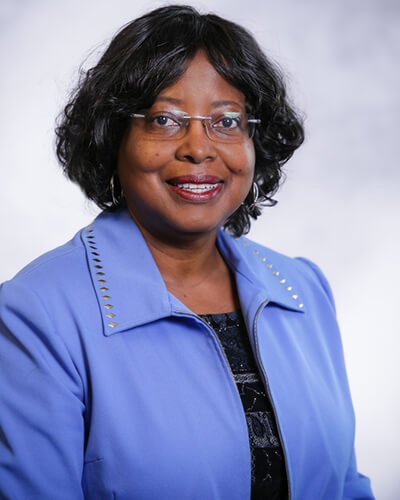 Dr. Camille Davis-Williams received her B. S. degree from Emory University and completed her MD degree and residency training in Obstetrics and Gynecology at the Emory University School of Medicine. She is a board ceritfied OB/GYN and a fellow of the American College of Obstetrics and Gynecology.
Dr. Davis-Williams has provided healthcare through her private practice, Greater Atlanta Women's Healthcare, for 25 years. She is a native Georgian who understands that improving the health of women in our community directly impacts the health of our men and children.
Dr. Davis-Williams has received many citations and accolades. She is a member of the Academy of Women Achievers for the YWCA of Greater Atlanta. She is listed as one of the "Best Doctors in America" as a result of a national survey of physicians which honors about 5% of all doctors in the U.S. She received the coveted award of Physician of the Year from the Atlanta Medical Association and has been cited as a notable woman in Georgia's History: Pioneer in Health Care by the Secretary of the State of Georgia.
She has fulfilled several professional appointments as consultant and is active in herCommunity. She served as an elected delegate from the 4th Congressional District of Georgia to the Democratic National Convention in Charlotte 2012. She is married with a son and daughter and enjoys traveling and spending quality time with family and friends.
Organizational Leadership Memberships
Associate Chief of the Department of OB/GYN for Emory University Hospital Midtown, Clinical Associate Professor for the Emory University School of Medicine, Physician Advisory Board for the State of Georgia Department of Medical Assistance, Emory University Midtown Clinical Integration Network (President), Emory Crawfordlong Community Physicians, National Advisory Committee on Women and Minority Health of the American Heart Association (AHA), American College of Obstetrics & Gynecology, Atlanta Medical Association, Advisory Board of Georgia's Office of Women's Health, Medical Association of Georgia, Georgia OB/GYN Society, National Medical Association, Rebecca Lee Society, Morehouse School of Medicine, Board of Trustees, Advisory Board of the Georgia Society of Obstetricians and Gynecologists, Sisters by Choice.