Frank Jones, MD, MPH
President MSMNAA 2022-2024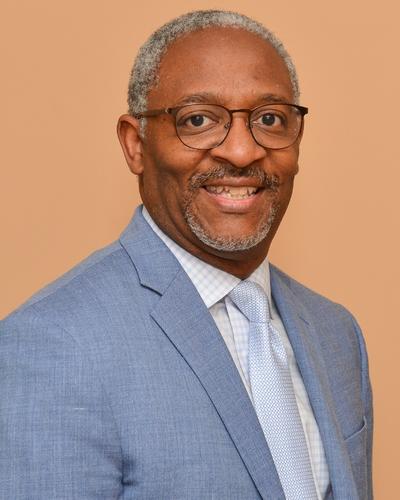 Dr. Jones was born and raised in Augusta, Georgia. He received his B.S. degree from Morehouse College, his M.D. degree from Morehouse School of Medicine, and an MPH degree from the University of North Carolina Chapel Hill. He went on to complete his General Surgery residency at Howard University Hospital, and a fellowship in Trauma and Critical Care at the University of Maryland. He is a Diplomate of the American Board of Surgery, and he is a Fellow of the American College of Surgeons. After a brief two-year stint in private practice, Dr. Jones joined the Morehouse School of Medicine faculty at Grady Memorial Hospital where he practiced surgery for 16 years, and he achieved the rank of Associate Professor of Clinical Surgery. Dr. Jones has won numerous teaching awards, and he has published several scholarly articles and done numerous local, regional, and national presentations. Throughout the COVID pandemic, Dr. Jones has produced and/or participated in numerous educational webinars, and he has been interviewed for numerous local and national media sites.
Throughout his career, Dr. Jones has been involved in numerous community service activities. For the past 7 years, he has served as the Director of Medical Services for the Hosea Feed the Hungry Foundation, and in 2018 he received the "Outstanding Humanitarian Award" from that organization.
Dr. Jones is involved in many social, humanitarian, and professional organizations. He is the immediate past president of the Atlanta Medical Association, and he serves on the board of directors of the Georgia Chapter of the Alzheimer's Association. In 2018, Dr. Jones was awarded the "Physician of the Year" by the Atlanta Medical Association. In May of 2022, Dr. Jones will begin his term as president of the Morehouse School of Medicine National Alumni Association. He is a proud member of the Omega Psi Phi Fraternity, Inc.
One of Dr. Jones' biggest passions is mentoring the next generation of Black doctors. He is the founder of the S.H.A.D.O.W. (See How a Doctor Organizes Their Work) PROGRAM, and in 2017 he founded PRE-MED SOLUTIONS, a non-profit mentoring and advising service for minority pre-med students.
Dr. Jones is an Adjunct Professor of Surgery at the Philadelphia College of Osteopathic Medicine-GA Campus, and Adjunct Associate Professor of Surgery at Morehouse School of Medicine. He is also a Board Certified wound care surgeon for Piedmont Fayette Wound Care Center. In 2020 and in 2021, Dr. Jones was named one of the Top Doctors by Georgia Trend Magazine.