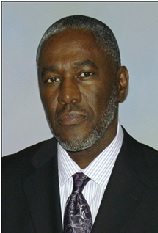 Robert M. Mayberry, M.S., M.P.H., Ph.D.
Professor and Vice Chair
Community Health & Preventive Medicine

Phone: 404-752-1878
E-mail: rmayberry@msm.edu
Education
GRADUATE:
University of California at Berkeley School of Public Health
Degree: Doctor of Philosophy

University of California at Berkeley School of Public Health
Degree: Master of Public Health

Alabama A&M University
Degree: Master of Science in Biology

UNDERGRADUATE:
Berea College
Degree: Bachelor of Arts in Biology
Research Interests
Chronic disease epidemiology; application of epidemiologic principles and methods to health services, health disparities/equity, prevention, and policy research; program planning and evaluation; community-based intervention design and implementation; implementation and dissemination science; translation of research discoveries into healthcare and community practice; diabetes prevention; diabetes care quality improvement; and research infrastructure development.
Clinical Interests
Prediabetes and diabetes clinical care
Publications
Mayberry, R., Daniels, P., Josiah Willock, R., Yan, F. (in press). Explaining Poor Medication Adherence among Adults with Type 2 Diabetes in an Urban Community Health Center. Journal of Health Care for the Poor and Underserved.
Josiah Willock R, Mayberry RM, Yan F, Daniels P. Peer Training of Community Health Workers to Improve Heart Health Among African American Women. Health Promotion Practice, 2015; 16(1):63-71.
Mayberry RM, Josiah Willock R, Boone L, Lopez P, Qin H, Nicewander D. A high level of patient activation is observed but unrelated to glycemic control among adults with type 2 diabetes. Diabetes Spectrum 2010; 23(3): 171- 176.
Mayberry, RM, Daniels, P, Henry, Akintobi, T, Yancey, EM. Berry, J, Clark, N. Enhancing community-based organizations' capacity for HIV/AIDS education and prevention. Evaluation and Program Planning 2009; 32 (3):213-220.
Mayberry, RM, Mili, F, Ofili, E. Racial and ethnic difference in access to medical care. Medical Care Research and Review. 2000:1:108-45.
Honors and Awards
Most Outstanding Young Men of America
Honor Students Society, University of California, Berkeley
Special Recognition, Positive Influence on a Student's Life, the Graduate School, University of South Carolina
Outstanding Service Award, University of South Carolina
Special Recognition for Service, Georgia Governor's Council of Maternal and Infant Health
Abraham Lilienfeld Award, Epidemiology Section, American Public Health Association