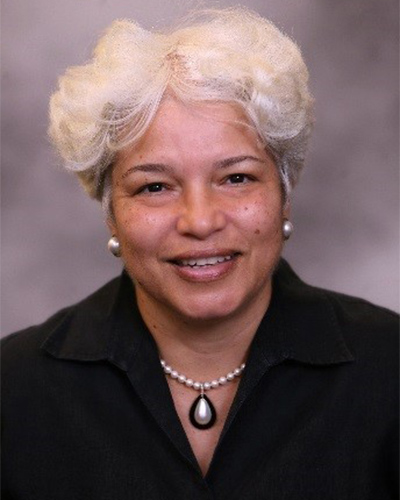 Virginia Floyd, M.D., M.P.H.
Associate Professor
Community Health & Preventive Medicine

Location: NCPC, Room 426
Phone: 404-752-1953
E-mail: vfloyd@msm.edu
Education
POSTGRADUATE:
Centers for Disease Control
Epidemic Intelligence Service Applied Epidemiology & Biostatistics

Emory University School of Medicine - Internal Medicine Residency

GRADUATE:
Emory University School of Public Health
Degree: MPH

Howard University College of Medicine
Degree: MD

UNDERGRADUATE:
Spelman College

Sophia University – Tokyo, Japan
Research Interests
Social determinant of health
Maternal & Child Health issues
Clinical Interests
Global Health
Publications
Henry Akintobi, T. K., Bleass, B. (Author), Bethea, B. (Author), Floyd, V. (Author), Hefner, D. (Author), Bond, V. (Author), Harris-Hooker, S. (Author), Taylor, H. (Author), Translational Science 2020, "TX TM: Formalization and Institutional Investment in a Model Designed to Advance Research Translational to Community Transformation," Association for Clinical and Translational Science, Washington, DC. (April 2020).
Floyd, V. D. (Author & Presenter), Gbodossou, E. V. (Author), Cambridge University SCOLMA Annual Conference - African Medicine Matters, "The PROMETRA International Journey: Traditional Medicine in Africa," Cambridge University, Cambridge, England. (September 6, 2016).
Floyd, V., Georgia Center for Oncology Research & Education Patient Navigators, "The Role of Patient Navigators: Creating Connections-Building Bridges...Together," Georgia Society of Clinical Oncology, Atlanta, GA. (September 12, 2015).
Floyd, V., Spelman College Founders Day, "International Engagement: The Fulfillment of a Career," Spelman College, Atlanta. (April 1, 2014).
Floyd, V., National Medical Association Annual Conference, "Global Health - The Role of HBCU Medical Schools," NMA, New Orleans, LA. (July 30, 2012).
Honors and Awards
Honorary Degree - Doctor of Science, Spelman College. 2019
Alpha Omega Alpha Honor Medical Society, Howard University College of Medicine. 2018
Phi Beta Delta Honor Society for International Scholars, Spelman College. 2018
Phi Beta Kappa Honor Society, Spelman College. 2017-2018
National Resolution & Commendation, March of Dimes Foundation. 2016