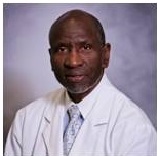 James A. McCoy, M.D., FACS
Professor
Medical Education

Location: Hugh Gloster Building 208
Phone: 404-616-1428
E-mail: jmccoy@msm.edu
Education
POSTGRADUATE:
Texas Heart Institute
Fellowship: Visiting Surgeon

Emory University, School of Medicine
Residency: Psychiatry

Texas Heart Institute
Fellowship: Cardiovascular Surgery


MEDICAL SCHOOL:
University of Texas Medical Branch
Degree: Doctor of Medicine


UNDERGRADUATE:
Texas Southern University
Degree: Bachelor of Science
Research Interests
Clinical trial: Bio-electric womb device (Procellera), sponsored by Vomaris
Board Certification
American Board of Surgery

American Board of Psychiatry and Neurology
Publications
McCoy, J.A. and Ayim E: Management of Acute Thoracic Injuries. Anesthesia, 31 (4) p.p. 532-536, May 1976

Meyer, J., Reul, G.J., Mullins, C.E., McCoy, J.A., Hallman, G.L., and Cooley, D.A.: Congential Fistulas of the Coronary Arteries. Journal of Cardiovascular Surgery 16.506, 1975.

McCoy, J.A., Meyer, J., Cooley, D.A., Congenital Fistulas of the Coronary Artery. Bulletin of the Texas Heart Institute, pp. 384-388, 1974.

McCoy, J.; Merrick, H. editors. The Objective Structured Clinical Examination (OSCE). Published by Association for Surgical Education, 2001

Polk, C.H.; Mancini, M.C.; McCoy, J.A. "Esophagus." Essentials of General Surgery 4th Edition. Edited by Peter Lawrence. Pennsylvania: William and Wilkins, 2006.

Rao, A., McCoy, J., Dent, L., Mediastinitis: A Rare Complication of central Venous Catheterization. Southeastern Surgical Congress, February 2007.


Click here to view additional publications.
Honors and Awards
2011: Arnold P Goldman Award Awarded by the Arnold P. Goldman Foundation

2011: Leonard Tow Humanism in Medicine Award by the Morehouse School of Medicine

2006-2005: Dean's Leadership Award for Most Outstanding Faculty

2004: 25 years of Service Award Presented by the Atlanta Medical Association for Commitment, Dedication, and Excellence

2004: Elected to membership in Gamma Chapter of Alpha Omega Alpha

2003: Award of Appreciation for Service to the Alumni Advisory Committee on Minority Affairs Presented by John D. Stobo, M.D., President, The University of Texas Medical Branch