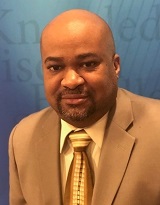 Mark Howse, Ph.D.
Director, Outcomes and Assessments
Medical Education

Location: Medical Education Building Room 317
Phone: (404) 752-1718
E-mail: mhowse@msm.edu
Education
GRADUATE:
Florida State University
Degree: Doctor of Philosophy in Curriculum and Instruction

Middle Tennessee State University
Degree: Master of Science in Mathematics, Minor in Education

UNDERGRADUATE:
Middle Tennessee State University
Degree: Bachelor of Science in Mathematics and Aerospace Technology, Minor in Education/Industrial Studies Technology
Publications
Howse, T. & Howse, M. (2015). Linking Van Hiele Theory to Instruction. Teaching Children Mathematics 76 (5), 304-313.

Reiter, M. A., P. C. Coggins, and M. E. Howse. (2009). Designing an integrated interdisciplinary Environmental Science curriculum using an IRMA chart: An example from Bethune-Cookman University. In: Filho, W. L. ed., Environmental Education, Communication and Sustainability Vol. 31: Sustainability at Universities: Opportunities, Challenges and Trends. Peter Lang Scientific Publishers. Ch. 12, pp 153-162.

Howse, Mark. (2001, January). African-American Students and Their Preferences for Distance Education Courses: A Preliminary Study.

Howse, M., (2000, April). An Analysis of African-American College Instructors' Beliefs about African-American College Students and Their Performance in College Mathematics Classes. Paper presented to special colloquium of doctoral students at Florida State University, Tallahassee, Florida.

Howse, M., (2000, February). Issues of African-Americans and Distance Education.

Howse, M., (2000, December). Learning in Mathematics.