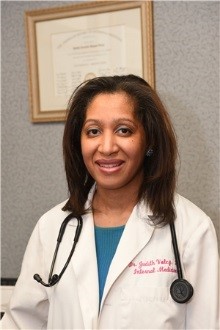 Judith Volcy, D.O.
Associate Professor
Internal Medicine

Location: 22 Piedmont Ave. SE; Ste. 528, Atlanta, GA 30303
Phone: (404) 756-1314
E-mail: jvolcy@msm.edu
Education
POSTGRADUATE:
St. Michael's Medical Center
Internship: Internal Medicine

Morehouse School of Medicine
Residency: Internal Medicine
Board Certification
Internal Medicine
Publications
Volcy, J. "Osteoporosis Questions and Answers." Spring, 2010. STAR/Wellstar publication.

2009. Featured in an article entitled "Invested in Clinical Excellence. Primary Care Relationships." FY09 Wellstar Health Systems Benefit Report.

Volcy, J. and Monica Redjaman. " A conservative yet effective way to treat occluded peripheral vessels." Accepted for publication to Cortlandt Forum. Editor David Acevedo. December, 2007.

Flenaugh, Eric, Judith Volcy et. Al. "Hemoptysis and an obstructing lung mass." Patient Care. April, 2004;38.

Volcy, Judith. "Breast Cancer: Diagnosis and Treatment." Journal of Ethnicity and Disease. 2003;13[suppl3]S3-38-S3-41.

Judith Rigaud Volcy, DO, Chike Magnus Nzerue, MD, Adesoji Oderinde, MD and Karlene Hewan -Lowe, MBBS. "Cocaine-Induced Acute Renal Failure, Hemolysis and Thrombocytopenia Mimicking Thrombotic Cytopenic Purpura." Vol. 35, No. 1 (January), 2000:E3.
Honors and Awards
Teacher of the Year, 2003-2004
Teacher of the Year, 2002-2003
Elected by the interns and residents of Morehouse School of Medicine
Dr. Judith Volcy is a graduate of Rutgers University where she double majored in Biology and Psychology in 1992. From there, she graduated from The New York College of Osteopathic Medicine in 1996. She then chose to do a one year AOA rotating internship at St. Michael's Medical Center in Newark, NJ. She then completed residency in Internal Medicine at Morehouse School of Medicine in 2000. She remained as faculty until 2004. During that time, she was voted Faculty Member of Year in 2003 and in 2004 by the residents. She then practiced at Wellstar until 2018. During her time at Wellstar, she gave several lectures on behalf of Wellstar to the lay public at such venues as Speaking of Women's Health at Cobb Galleria. She also preceptored 3 nurse practitioner students during that time where each spent an semester with her. In May of 2018, she returned to Morehouse as faculty. Since that time, she has served as the Co-Director of Grady Yellow Pod. She assumed the role of Assistant Program Director in April of 2019. During her year back at Morehouse, Dr. Volcy has completed the Emory at Grady Faculty Development Course in Quality Improvement and presented a poster at the Emory Research day in July of 2019. She recently published in the PhotoQuiz segment of American Family Physician. In June, she was voted Faculty Member of the Year by the residents.
Dr. Volcy enjoys teaching and loves discussing and working up interesting cases. She enjoys working for the underserved and finds it very rewarding. She enjoys volunteering in the HEAL clinic run by Morehouse Medical students. Quality Improvement has also become an interest of hers since returning to Morehouse.