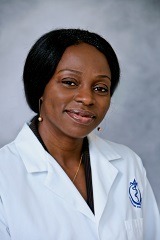 Education
MEDICAL SCHOOL:
University of Nigeria, Enugu
Degree: Doctor of Medicine
Clinical Interests
Diabetes Mellitus

Hypertension

HIV/AIDS
Specialties
Internal Medicine
Board Certification
Internal Medicine
Publications
Mbaezue N, Mayberry R, Gazmararian J, Quarshie A, Ivonye C, Heisler M. The impact of health literacy on self-monitoring of blood glucose in patients with diabetes receiving care in an inner-city hospital. J Natl Med Assoc. 2010 Jan;102(1):5-9. PMID: 20158130

Adesunloye BA, Valadri R, Mbaezue NM, Onwuanyi AE. Impact of peripheral arterial disease on functional limitation in congestive heart failure: results from the national health and nutrition examination survey (1999-2004). Cardiol Res Pract. 2012;2012:306852. doi: 10.1155/2012/306852. Epub 2012 Dec 17. PMID: 23346456


Click here to view publications.