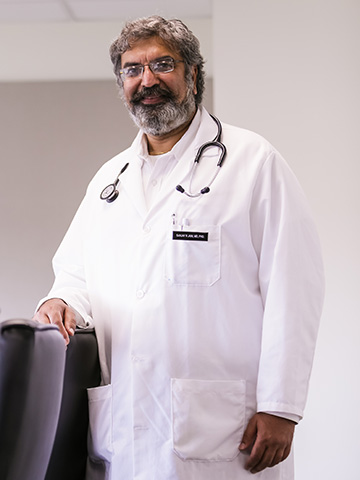 Sanjay Jain, M.B., M.S., M.D., Ph.D.
Associate Professor
Medicine

Location: Piedmont Hall PH 409
Phone: (404) 756-1323
E-mail: sjain@msm.edu
Education
POSTGRADUATE:
Miriam Hospital, Brown University
Residency: Internal Medicine


MEDICAL SCHOOL:
University of Rajasthan, Jaipur, India
Degree: Bachelor of Medicine, Bachelor of Surgery
Research Interests
Immune Therapies of Cancer

Chemoprevention of cancer, phase I and II therapeutic trials and translational science
Board Certification
American Board of Internal Medicine
Publications
Andrew X Zhu, Jeffrey A Meyerhardt, Lawrence S Blaszkowsky, Avinash R Kambadakone, Alona Muzikansky, Hui Zheng, Jeffrey W Clark, Thomas A Abrams, Jennifer A Chan, Peter C Enzinger, Pankaj Bhargava, Eunice L Kwak, Jill N Allen, Sanjay R Jain, Keith Stuart, Kerry Horgan,Susan Sheehan, Charles S Fuchs, David P Ryan, Dushyant V SahaniEfficacy and safety of gemcitabine, oxaliplatin, and bevacizumab in advanced biliary-tract cancers and correlation of changes in 18-fl uorodeoxyglucose PET with clinical outcome: a phase 2 study Lancet Oncol 2010; 11: 48–54.

Kathy P. Parker, Donald L. Bliwise, Maria Ribeiro, Sanjay R. Jain, Catherine I. Vena, Mary Kay Kohles-Baker, Andre Rogatko, Zhiheng Xu, Wayne B. Harris . Sleep/Wake Patterns of Individuals With Advanced Cancer Measured by Ambulatory Polysomnography. JCO May 20 2008: 2464-2472. 2008; 26(15):2464-2472.

Donald L. Bliwise, Jo Ann Dalton, Kathy P. Parker, Sanjay Jain, MD, Mary Kay Kohles-Baker. Polysomnographic measures of sleep moderate the relationship between depression and pain (ABSTRACT # 8526). In: Proceedings of the American Society of Clinical Oncology; 2006; Atlanta, GA.; 2006.

Jain, Sanjay. Chemoprevention of Solid Tumors [Abstract]. 2005 Mar 17-19, IndustrialToxicologyResearchCenter, Lucknow, India. In: International Symposium on Diet in the Causation and Prevention of cancer; 3/18/2005; Lucknow, India. ; 2005.
Honors and Awards
Nominated for Cancer Center of Excellence by the Committee for Arab Health Awards

Stephen Robinson Award for Excellence in Teaching, Division of Hematology and Oncology, Beth Israel Deaconess Medical Center, Harvard Medical School

Joseph Silber Research Fellowship (American Cancer Society), Cleveland Clinic Foundation, Cleveland OH

Vice President of the Biology Graduate Student Council Department of Biological Sciences, Kent State University, Kent, OH

Recognized as the best Intern at Maharao Bhim Singh Hospital, Kota, University of Rajasthan, India