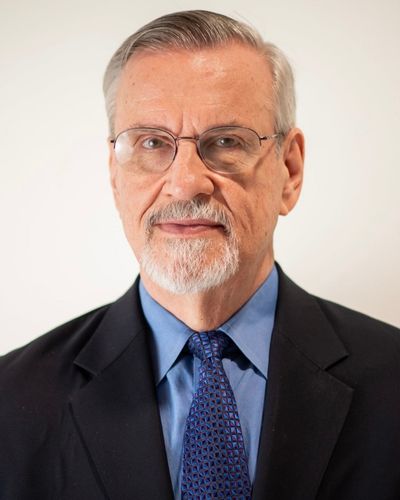 Barney Graham, MD
Senior Advisor for Global Health Equity
Clinical Trials Physician, Immunologist, and Virologist
Microbiology, Biochemistry & Immunology
E-mail: bgraham@msm.edu
Education
POSTGRADUATE:

Vanderbilt University School of Medicine
Clinical Fellowship:
Infectious Diseases

Vanderbilt University School of Medicine
Residency: Chief Resident, Internal Medicine

Vanderbilt University School of Medicine
Residency: Resident, Internal Medicine

Vanderbilt University School of Medicine
Internship: Internal Medicine
GRADUATE:
Vanderbilt University
Degree:
Doctor of Philosophy

University of Kansas, School of Medicine
Degree:
Doctor of Medicine
UNDERGRADUATE:
Rice University
Degree:
Bachelor of Arts, Magna Cum Laude, Phi Beta Kappa
Board Certification
Medical License: M.D., Maryland, Registration #D57838
Board Certification: American Board of Internal Medicine, 1983, #94606
American Board of Infectious Diseases,1986, #94606
Publications
Cook B, O'Sullivan FX, Leung J, Morse P, Graham B, Chapman AL. Transformation of human embryo cells with the use of cell-free extracts of a human rhabdomyosarcoma cell line (HUS-2). Journal of the National Cancer Institute 1978; 60:979-983.
Graham B, Fremon F. Continuous psychomotor seizures presenting as a long-standing mental illness. Southern Medical Journal 1982; 74:505-506.
Graham BS, Reiss TF, Gregory DW. Pericarditis associated with Hemophilus influenzae type B pneumonia and bacteremia in two adults. Chest 1983; 84:48-50.
Graham BS, Snell JD. Herpes simplex virus infection of the adult lower respiratory tract. Medicine 1983; 62:384-393.
Graham BS, Hinson MV, Bennett SR, Gregory DW, Schaffner W. Acid-fast bacilli on buffy coat smears in the acquired immunodeficiency syndrome: A lesson from Hansen's bacillus. Southern Medical Journal 1984; 77:246-248.
Graham B, Wong SW. Cancer cellulitis. Southern Medical Journal 1984; 77:277-278.
Rabin PL, Graham BS. Counterfeit calculi. Southern Medical Journal 1984; 77:304-307.
Graham BS, Tucker WS. Opportunistic infections in endogenous Cushing's syndrome. Annals of Internal Medicine 1984; 101:334-338.
Graham BS, Gregory DW. Pseudomonas aeruginosa causing osteomyelitis after puncture wounds of the foot. Southern Medical Journal 1984; 77:1228-1230.
Wheeler AP, Graham BS. Pseudogout presenting with low synovial fluid glucose: Identification of crystals by Gram stain. American Journal of Medical Sciences 1985; 289:68-69.
Maples MD, Adkins RB, Graham BS, Dao AH, Scott HW. Pseudotumor of the lung. American Surgeon 1985; 51:84-88.
George AL, Hays JT, Graham BS. Blastomycosis presenting as monoarticular arthritis: The role of synovial fluid cytology. Arthritis and Rheumatism 1985; 28:516-521.
Fischmann GE, Graham BS. Ludwig's angina: Initial manifestation of oral malignancy. Journal of Oral Surgery 1985; 43:795-796.
Graham BS, Lichtenstein MJ, Hinson JM, Theil GB. Non-exertional heatstroke: Physiologic management and cooling times in 14 patients. Archives of Internal Medicine 1986; 146:87-90.
Adkins RB, Maples MD, Graham BS, Witt TT, Davies J. Dysphagia associated with an aortic arch anomaly in adults. American Surgeon 1986; 52:238-245.
CLICK HERE
to view full list of publications.
Honors and Awards
Major Grant Awards
1985-1988: American College of Physicians Teaching and Research Scholar, "Cell-mediated immunity in RSV infected mice"
1987-2005: NIH NO1-AI-05062, NO1-AI-45210, and UO1-AI-47985, Clinical Trials of Candidate AIDS Vaccines, Establishment of AIDS Vaccine Evaluation Units, HIV Vaccine Clinical Trials Units.
1994-2004: NIH RO1-AI-33933, "RSV-induced patterns of cytokine expression and disease"
1994-1998: NIH RO1-AI-37216 "Influence of cytokine milieu on immune response to RSV"
1999-2004: NIH RO1-AI-45512, "The effect of RSV on allergic airway disease"
2012: NIH/NSFC U.S.-China Collaborative Research Grant, "Structural Basis for Neutralizing Respiratory Syncytial Virus". Renewed 2013-2016.
Government Awards
2003: Government Special Act or Service Award
2007-2011: Government Staff Recognition or Performance Award
2011: NIAID Merit Award – For Chikungunya vaccine development
2013: NIH Director's Award – For Malaria vaccine development
2014: NIAID Merit Award - For outstanding performance in solving the prefusion structure of RSV fusion glycoprotein and using that information to guide design of a promising candidate RSV vaccine
2014-2021: Government Staff Recognition or Performance Award
2015: NIH Director's Award – Ebola vaccine development
2015: NIAID Merit Award – Outstanding achievement in the development of the WHO/NIH collaboration on the Chikungunya virus meeting on gaps and opportunities
2016: NIAID Merit Award – For contributions to the Global Vaccine Action Plan in the "Decade of Vaccines"
2016: NIAID Merit Award – For Zika virus vaccine development
2017: NIH Director's Award – For Zika virus vaccine development
2017: NIAID Merit Award – For development of US-Cuba scientific collaboration and convening an inaugural bilateral scientific research conference in Cuba
2018: NIAID Merit Award - For effectively developing the framework for a prototype-pathogen approach to pandemic preparedness
2018: NIAID Merit Award - For early adoption and vision in the application of virtual reality and related advanced visualization techniques for biomedical science at NIAID
2021: NIH Director's Award - For outstanding efforts in the pursuit of efficacious vaccines to prevent COVID-19