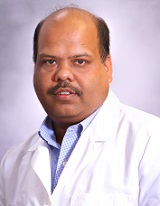 Rajesh Singh, Ph.D.
Associate Professor
Microbiology, Biochemistry & Immunology

Location: Hugh Gloster Building, Room B-337
Phone: 404-756-6661
E-mail: rsingh@msm.edu
Education
GRADUATE:
Banaras Hindu University
Degree: Doctor of Philosophy

Banaras Hindu University
Degree: Master of Science


UNDERGRADUATE:
Banaras Hindu University
Degree: Bachelor of Science

Research Interests
Focus of my laboratory is to develop therapeutic and chemo-preventive strategies for cancer using targeted delivery of natural and synthetic agents. Long-term goal is to improve therapeutic outcome and over all survival of cancer patients.
Publications
Kumar S, Singh RK, Sharma R, Murthy RS, Bhardwaj TR. Design, Synthesis and Evaluation of Antimalarial Potential of Polyphosphazene Linked Combination Therapy of Primaquine and Dihydroartemisinin. Eur J Pharm Sci. 2014 Oct 10. pii: S0928-0987(14)00380-7. doi: 10.1016/j.ejps.2014.09.023. PMID: 25312346

Gupta P, Sharma PK, Mir H, Singh R, Singh N, Kloecker GH, Lillard JW Jr, Singh S. CCR9/CCL25 expression in non-small cell lung cancer correlates with aggressive disease and mediates key steps of metastasis. Oncotarget. 2014 Sep 25. PMID: 25296976

Corey GR, Good S, Jiang H, Moeck G, Wikler M, Green S, Manos P, Keech R, Singh R, Heller B, Bubnova N, O'Riordan W; for the SOLO II Investigators. Single-dose Oritavancin Compared to 7-10 days of Vancomycin in the Treatment of Gram-Positive Acute Bacterial Skin and Skin Structure Infections; the SOLO II Non-inferiority Study. Clin Infect Dis. 2014 Oct 6. pii: ciu778. PMID: 25294250

Loghavi S, Zuo Z, Ravandi F, Kantarjian HM, Bueso-Ramos C, Zhang L, Singh RR, Patel KP, Medeiros L, Stingo F, Routbort M, Cortes J, Luthra R, Khoury JD. Clinical features of De Novo acute myeloid leukemia with concurrent DNMT3A , FLT3 and NPM1 mutations. MID: 25281355

Singh R, Gupta P, Kloecker GH, Singh S, Lillard Jr JW. Expression and clinical significance of CXCR5/CXCL13 in human non‑small cell lung carcinoma. Int J Oncol. 2014 Sep 30. doi: 10.3892/ijo.2014.2688. PMID: 25271023

Tomar D, Singh R. TRIM13 regulates ubiquitination and turnover of NEMO to suppress TNF induced NF-κB activation. Cell Signal. 2014 Aug 23;26(12):2606-2613. doi: 10.1016/j.cellsig.2014.08.008. PMID: 25152375


Click here to view additional publications.
Honors and Awards
American Association of Immunologist (AAI)-Junior Faculty Travel Award, Laboratory Travel Grant, Amnis Travel Award, Trainee Award.

American Association for Cancer Research (AACR)-Minority-serving Institution Faculty Scholar Award.

National Institute of Health (NIH)- Certificate on Nanotechnology in Medicine.

DoD Prostate Cancer Research Program (CET-1, CET-2 and TRN-CET) and Metabolic Disease (MD-1, Discovery Award)- Peer Review Panel Member

NIH/National Institute of General Medical Sciences (NIGMS)-SCORE- Peer Review Panel Member