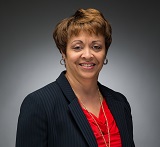 Rita Finley, Ph.D.
Associate Dean, Educational Outreach and Health Careers
Director, Master of Science in Medical Sciences Degree
Associate Professor, Department of Pathology and Anatomy
Location: Hugh Gloster Building, Room 121
Phone: (404) 752-1614
E-mail: rfinley@msm.edu
Education
POSTGRADUATE:
Morehouse School of Medicine
Research Associate—Department of Anatomy

SmithKline & French Laboratories
Postdoctoral Scientist—Department of Drug Delivery

GRADUATE:
Atlanta University
Degree: Doctor of Philosophy in Biology

Tennessee State University
Degree: Master of Science in Biology

Fisk University
Degree: Bachelor of Arts in English
Research Interests
Understanding and improving the narrow pathway to health careers for students underrepresented in medicine as a means of increasing the diversity of the physician workforce.
Publications
Finley, Rita, Howse, Mark and Stuck, Laura. Expanding pathways for medical school admissions and first year academic success for URM students. Group on Student Affairs and Organization of Student Representatives Poster Session, Association of American Medical Colleges (AAMC), Learn Serve Lead, Phoenix, AR, November 8, 2019.
Mayberry, Robert, Finley, Rita, Ernest Alema-Mensah and Davis, Trobiand. 2006. Care quality for adult Medicaid beneficiaries with type 2 diabetes caries by primary care provider subspecialty. Journal of the Georgia Public Health Association, 1(2):24-29.
Mayberry, Robert, Davis, Trobiand, Alema-Mensah, Ernest, Samadi, Aziz, Finley, Rita and Jones, Alma. 2005. Determinants of glycemic status monitoring in black and white Medicaid beneficiaries with diabetes mellitus. Journal of Healthcare for the Poor and Underserved 26:131-149.
Mayberry, Robert, Samadi, Aziz, Alema-Mensah, Ernest and Finley, Rita. System and provider characteristics in blood glucose monitoring among black and white adult Medicaid beneficiaries with diabetes mellitus. 132nd Annual American Public Health Association Meeting, Washington, D.C., November, 2004.
Honors and Awards
Team Spirit Award, Presented to the Office for Educational Outreach and Health Careers, Employee Council, Morehouse School of Medicine, Atlanta, GA, April, 2019
Most Involved in the Community, Presented by the MD and GEBS Students, Morehouse School of Medicine, May 5, 2018
Washington Cluster Partner of the Year, Presented to the Office for Educational Outreach and Health Careers and Morehouse School of Medicine, Atlanta Public School System, Atlanta, GA, 2018

District Partner of the Year, Presented to the Office for Educational Outreach and Health Careers and Morehouse School of Medicine, Atlanta Public School System, Atlanta, GA, 2017
Washington Cluster Partner of the Year, Presented to the Office for Educational Outreach and Health Careers and Morehouse School of Medicine, Atlanta Public School System, Atlanta, GA, 2017
Humanitarian Award, Presented by the MD and GEBS Students, Morehouse School of Medicine, May 1, 2015