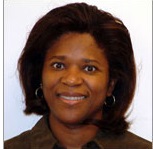 Karen Russell Randall, Ph.D.
Associate Professor
Pharmacology & Toxicology

Location: Research Wing 314
Phone: 404-752-1875
E-mail: krandall@msm.edu
Education
GRADUATE:

University of the West Indies
Degree:
Doctor of Philosophy in Biochemistry
UNDERGRADUATE:

University of the West Indies
Degree:
Bachelor of Science (B.Sc., Hons.) in Biochemistry; Bachelor of Science (B.Sc., Hons.) in Chemistry
Research Interests
My research focuses on the cellular and molecular mechanisms that underlie the natriuretic and opioidergic regulation of aqueous humor dynamics in the development and maintenance of ocular hypertension. This is based on the hypothesis that opioid and natriuretic systems play important roles in modulating ocular hydrodynamics and that changes in their activity contribute to ocular hypertension. These changes may eventually lead to symptoms reflecting glaucoma. High pressure in the eye is one of the symptoms of primary open angle glaucoma (POAG), the principal cause of blindness in African Americans and a major cause in other segments of the population. Data from our lab demonstrated the presence of opioid and natriuretic peptide receptors in cells involved in IOP regulation, and support our hypothesis that opioids have a role in the reduction of intraocular pressure. However, little is known about how such regulation is achieved. Our studies strongly suggest that the natriuretic peptide (NP) system is involved in the opioid-induced IOP regulation. Like the opioid system, natriuretic peptides regulate cardiovascular and renal functions through their hypotensive and hemodynamic effects. NPs are involved in fluid volume control and may be influenced by endogenous opioids in their volume-regulatory role in the eye. The long-term objective is to determine how opioids and natriuretic peptides function in the anterior chamber (front of the eye) and to determine their roles in the biology of IOP regulation. In the long term, we expect that our findings will reveal essential molecular targets for future therapeutic interventions for POAG and will result in improved outcomes for glaucoma patients.
Publications
Avotri S., Eatman D., Russell-Randall K. (2019) Effects of Resveratrol on Inflammatory Biomarkers in Glaucomatous Human Trabecular Meshwork Cells. Nutrients. 2019 Apr 30;11(5). pii: E984. doi: 10.3390/nu11050984; https://www.mdpi.com/2072-6643/11/5/984.
Kiser ZM, McGee MDM, Wright RJ, Quarshie A, Newman GW, Randall KR, Stiles JK, Driss A, Hibbert JM. (2017) Quercetin reduces hydroxyurea induced cytotoxicity in immortalized mouse aortic endothelial cells. PeerJ 5:e3376 https://doi.org/10.7717/peerj.3376
Karen Russell Randall, Ph.D., Danita Eatman, Ph.D., Ashley Kennedy Mitchell, MSPH, Meryl McNeal, Ph.D. (2017). Using Learning Communities to Successfully Navigate Through the Stages of Graduate Education at a Small Medical School. New Horizons in Journal of Advances in Education Research Journal of Advances in Education Research, Vol. 3, No.1, February 2018; https://dx.doi.org/10.22606/jaer.2018.31006.
Russell-Randall KR, Dortch-Carnes J (2011). Kappa opioid receptor localization and coupling to nitric oxide production in cells of the anterior chamber. Invest Ophthalmol Vis Sci.; 52(8):5233-9
Dortch-Carnes J, Randall KR (2009). Morphine-induced nitric oxide production in isolated, iris-ciliary bodies. Exp Eye Res. 89(5):660-4.
Honors and Awards
March 2020: Morehouse School of Medicine Student Government Association, Outstanding Pharmacology Faculty Member
April 2019: Morehouse School of Medicine Student Government Association, Outstanding Pharmacology Faculty Member
April 2019: Morehouse School of Medicine Student Government Association, Outstanding Mentor of the Year
October 2018: Graduate Education in Biomedical Sciences (GEBS), Morehouse School of Medicine, 2018 Excellence in Teaching Award