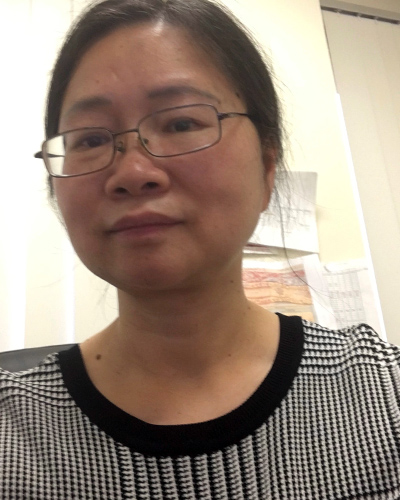 Xueying Zhao, Ph.D.
Associate Professor
Physiology

Location: Medical Education Building C-342
Phone: (404) 752-1902
E-mail: xzhao@msm.edu
Education
POSTGRADUATE:
Tulane University School of Medicine
Fellowship: Renal Physiology

Medical College of Georgia
Fellowship: Vascular Biology

MEDICAL SCHOOL:
Suzhou Medical College
Degree: Doctor of Medicine

GRADUATE:
Suzhou Medical College
Degree: Doctor of Philosophy in Pharmacology
Research Interests
Hypertension and type 2 diabetes are the leading risk factors for cardiovascular disease in adults. Along with cardiovascular complications, hypertension in patients with diabetes contributes to increased risk of end-stage renal disease. Our primary research goals are to identify the molecular mechanisms by which hypertension and diabetes cause renal vascular dysfunction and kidney damage. The focus is on two areas: albumin-bound fatty acid overload in epithelial signaling and kidney injury molecule-1 in renal epithelial injury and repair. Through multidisciplinary approaches at the level of molecule, cell, organ and whole body, our goal is to find novel biomarkers and therapeutic strategies for chronic proteinuric kidney disease associated with hypertension and diabetes.
Publications
Zhao X, Chen X, Zhang Y, George J, Cobbs A, Wang G, Li L, Emmett N. Kidney injury molecule-1 is upregulated in renal lipotoxicity and mediates palmitate-induced tubule cell injury and inflammatory response. Int J Mol Sci. 2019 Jul 11;20(14):3406. PMID: 31373312.
Zhao X, Chen X, Chima A, Zhang Y, George J, Cobbs A, Emmett N. Albumin induces CD44 expression in glomerular parietal epithelial cells by activating ERK signaling pathway. J Cell Physiol. 2019 May;234(5):7224-7235. PMID: 30362534
Cobbs A, Chen X, Zhang Y, George J, Huang MB, Bond V, Thompson W, Zhao X. Saturated fatty acid stimulates production of extracellular vesicles by renal tubular epithelial cells. Mol Cell Biochem. 2019 Aug;458(1-2):113-124. PMID: 30993495
Chen X, Cobbs A, George J, Chima A, Tuyishime F, Zhao X. Endocytosis of albumin induces matrix metalloproteinase-9 by activating the ERK signaling pathway in renal tubule epithelial cells. Int J Mol Sci. 2017 Aug 12;18(8):1758. PMID: 28805677
Zhao X, Jiang C, Olufade R, Liu D, Emmett N. Kidney injury molecule-1 enhances endocytosis of albumin in renal proximal tubular cells. J Cell Physiol. 2016 Apr;231(4):896-907. PMID: 26332568